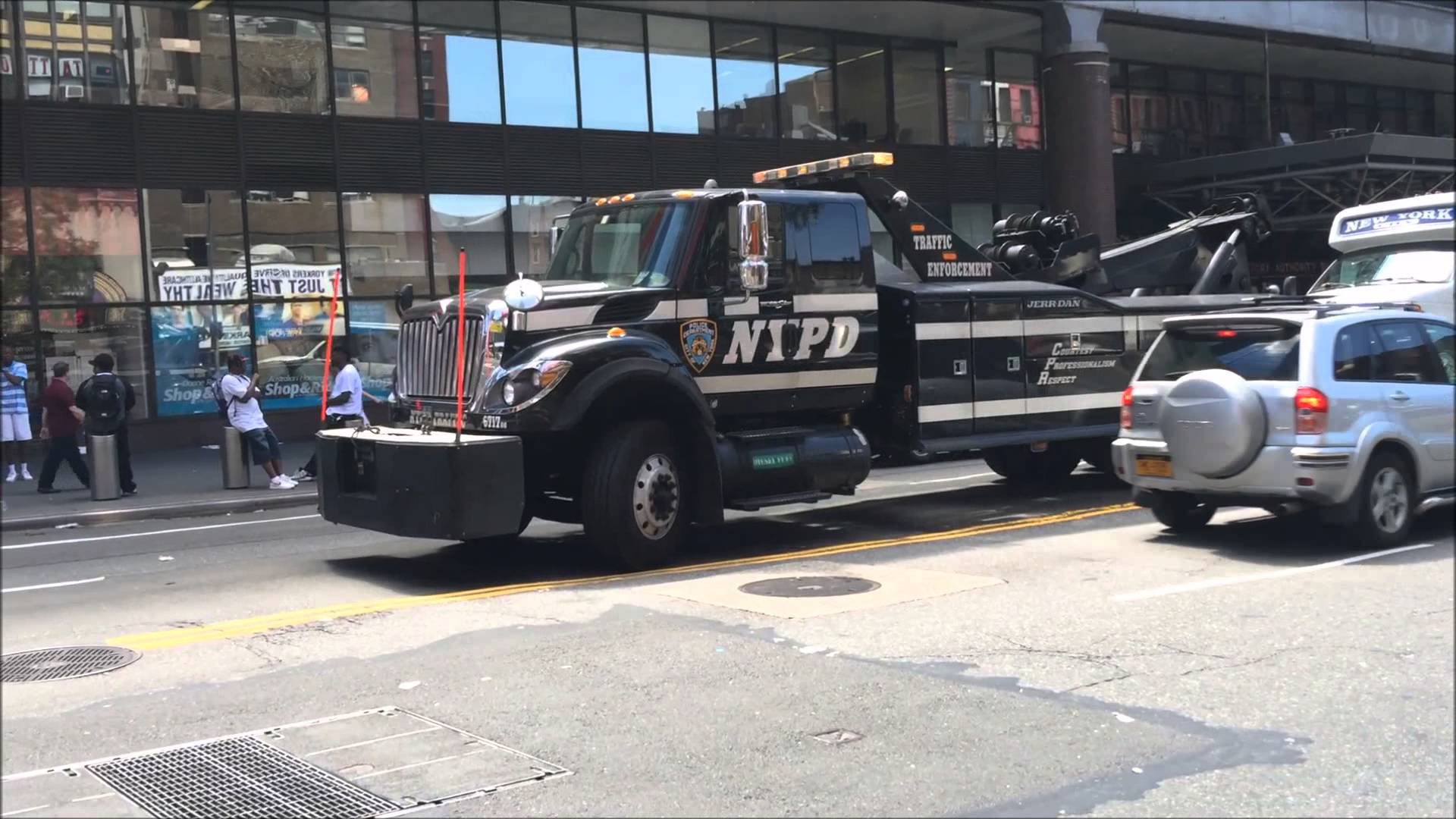 Summary & Quick Facts
NYC is a tow away zone: your car can be towed at any time for breaking any parking regulation!

City traffic enforcement officers can issue you a parking ticket and call to have your car towed for the same offense.

A violation tow occurs when your car is towed for receiving a parking ticket though you do not have any unpaid parking tickets currently in judgment.
A judgment tow occurs when you have $350 or more in unpaid parking tickets and/or red light camera fines in judgment.
If you fail to pick up your car within 72 hours, the city will begin auctioning it off.

The city can take up to 10 days to auction your car.
Did Your Car Get Towed?
Drivers in New York City deal with a lot of horrors on the road whether it's massive potholes or other distracted drivers. Let's be real though, there are few things as horrible as having your car towed away. It is probably one of the worst nightmares any New York City driver can experience. Just think about that one time you parked in an empty, seemingly perfect spot. Of course, everything was cool until you return to find your car gone without a trace. It gets worse when you pick up your car from the pound and find a parking ticket slapped on it. That's sure to induce a panic attack! Don't get that feeling in the pit of your stomach again. Here's a guide to dodging the dreaded hook of a tow truck while keeping your wallet intact.
New York City Is A Tow Away Zone!
New York City drivers should be aware that the city's tow truck operators basically have the green light to tow as they please because all of New York City is a designated tow away zone under the State's Vehicle and Traffic Law. This means that any vehicle parked or operated illegally, or with missing or expired registration or inspection stickers, may be towed. In layman's terms, your car can be towed if an NYPD traffic enforcement agent simply issues you a parking ticket. In addition to the NYPD, the NYC Department of Consumer Affairs (DCA) employs private companies to tow cars for a variety of infractions. Some include blocking private driveways, parking in a temporary construction zone or abandoning your car on the street.
Different Ways The City Can Tow Your Car
So, you're saying there are multiple ways which my car to be towed that I have to worry about? Unfortunately, yes! Your car is susceptible to a couple different kinds of towing in this concrete jungle.
Say you receive a ticket for parking by a hydrant but have no unpaid parking tickets in judgment. If your car still is towed, you are the unfortunate victim of a "violation tow." Here, your vehicle was towed and taken to one of the NYPD impound lots in the five boroughs around the city. You can find the locations of the different impound lots on the city's NYPD Tow Pound page or below. Drivers should also keep in mind that if they owe $101 or more of parking tickets in judgment debt at the time of towing, they will need to pay the outstanding judgment debt in its entirety as well as all associated tow fees at the NYPD Tow Pound to have their vehicle released.
If you park your car anywhere within city limits and have $350 or more in unpaid parking tickets or red light camera fines in judgment, you are susceptible to a "judgment tow" by a Sheriff or NYC marshal. No joke, this is the scariest kind of tow that you don't want for your car! There are hefty fees that come with the judgment tow. This includes a tow fee, a tow dispatch fee, sheriff/marshal execution fee, and an overnight storage fee of $20 per day if your vehicle was not released after the first day of being towed.  Below is a handy table of some of the fees you can expect to receive. 
Sheriff/Marshal Execution fee:
$80.00
Tow Fee (If applicable):
$135.00
Tow Dispatch fee
(If applicable):
$67.50
Judgment Amount*
Additional Fees*
* Depending upon the amount owed.
Pick Up Your Car Or The City Will Auction It!
If you do not pick up your vehicle within 72 hours of the city towing it, they will begin the process of auctioning off your vehicle. If you don't pay all judgment fines and pick up your vehicle or ask for a "Sale Hold" at any New York City Finance Business Center within 3 days of this, your car is really in trouble! The city will begin the process of auctioning off your vehicle. The city can take up to 10 days for the city to do this.
How Can You Avoid The Tow?
Honestly, we don't want any driver in this city to have this heart-stopping experience. If you can, try to pay or fight your parking tickets as soon as possible before they lapse into judgment. This will happen about 100 days after you first receive your New York City parking ticket. Nevertheless, if you stay on top of your parking tickets and abide by all parking regulations on the road, your car will be safely off the tow list! 
Locations for NYPD Impound Lots
Manhattan
Pier 76 at West 38th Street & 12th Avenue
Hours of Operation:
Open 24 hours a day. Closed only Sunday 5:00 AM until Monday 7:00 AM.
Telephone:
212-971-0771 or 212-971-0772
Pier 76 at West 38th Street & 12th Avenue
---
Bronx
745 East 141st Street between Bruckner Expressway & East River
Hours of Operation:
Mon-Fri:
8:00AM – 10:00PM
Saturday:
8:00AM – 3:00PM
Sunday:
Closed
Telephone:
718-585-1385 or 718-585-1391
---
Brooklyn
Brooklyn Navy Yard; entrance is at corner of Sands Street & Navy Street
Hours of Operation:
Mon-Fri:
8:00AM – 10:00PM
Saturday:
8:00AM – 3:00PM
Sunday:
Closed
Telephone:
718-237-3300
---
Queens
31-22 College Point Boulevard, Flushing, NY 11354
Hours of Operation:
Mon-Fri:
8:00AM – 10:00PM
Saturday:
8:00AM – 3:00PM
Sunday:
Closed
Telephone:
718-359-6200