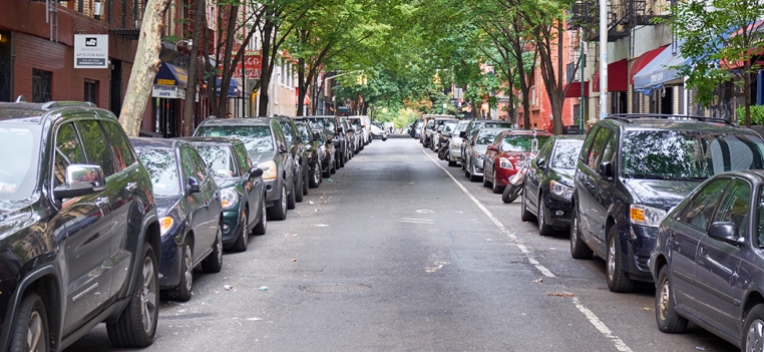 Summary & Quick Facts
Residential parking permits may soon become a reality in NYC thanks to two new bills.
One of the proposed legislation would create a residential parking permit system for Northern Manhattan, including all areas north of 60th Street.
The other bill would require the use of residential parking permits city-wide.
Both bills would task the city's Department of Transportation with determining where and when the permits would be required, how much they would cost and any penalties for violations.

The proposed legislation will reserve as much as 80 percent of the parking spaces for local residents.

Non-resident drivers will have access to the remaining spaces available for up to 90 minutes.

Reserved Spots for NYC residents
There's a long list of things that can make living in  New York City stressful if you're a resident with a car. The impossibility of finding parking has long sat at the top of the list. Residents with cars are often stuck between a rock and a hard place.  As in most neighborhoods throughout New York City, street parking is at a premium. This can sometimes feel like finding a speck of gold in a raging river. Nevertheless, drivers find themselves making a crucial decision: either cruise block after block every day looking for a free parking spot, or give in and rent a dedicated parking spot.  The city, however, is looking at ways to address the parking problem in NYC. Many are banking on a residential parking permit program to address these parking challenges. Here are some ways the city is potentially changing how parking works in NYC.
Proposed Bills to Change NYC Parking Habits
New Yorkers have long complained about suburban commuters taking their parking spots and making it more difficult to park. While some residents are already eligible to apply for specific NYC parking permits, most NYC residents are unfortunately illegible.  Now, there's a  group of elected officials who believe they found a solution.  City Council members intend to introduce two separate bills that would create a residential parking program. These programs will give on-street parking preference to local residents over outside commuters.
NYC is one of the only major cities across the United States where such a residential parking program doesn't exist. While such residential parking permits are a mainstay in cities like Boston, Washington and Chicago, NYC has never adopted this system. This may seem odd because even many upstate NY cities like Albany have some form of residential parking. Nevertheless, similar proposals in NYC have never passed in city legislatures.
Bill For Residential Parking In Specific Neighborhoods
Manhattan members of the city council plan to introduce legislation that would require the Department of Transportation to implement a residential parking permit system in designated parts of the city. Much of northern Manhattan would require the use of parking permits under this plan. Subsequently, this proposed bill would cover all areas between 60th Street and Inwood.  It would also allow the DOT to reserve as many as 80 percent of the parking spaces for local residents.
Manhattan City Council members Mark Levine, Helen Rosenthal and Keith Powers said the measure is needed because so many park-and-ride commuters from outside the borough take up spots in residential neighborhoods and then hop on the subway.
The legislation would limit permits to drivers with a New York state licenses. The city will give out one permit per drivers and ensure that each permit links to a unique license plate. Furthermore, the city will reserve up to 80 percent of parking spaces in a given area for permit holders. Non-resident drivers will have access to the remaining spaces available for up to 90 minutes.
Bill For City-Wide Residential Parking Permit
Another bill, by Council Transportation Committee Chair Ydanis Rodriguez (D- Upper Manhattan), would seek a citywide residential permit parking system. It would require permit holders to pay yet-to-be-determined fees to park in their designated areas. Both bills leave the determination of the parking hours and locations where parking would be reserved for permit-holders to the DOT. The DOT will also determine how much permits would cost for residents as well as any penalties for violations.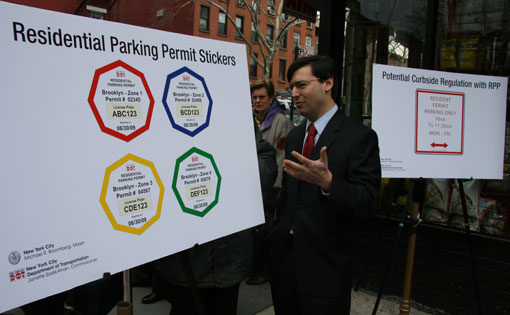 Reserved Car Sharing Program
The Department of Transportation will also launch a two-year pilot parking program for car-sharing companies. The city will strictly reserve hundreds of parking spots in 14 neighborhoods throughout for car-sharing. The program allows drivers to rent available cars by the hour or day. DOT's Alex Keating, the director of special projects, says that if more residents share cars, fewer private vehicles will take up parking spots. He added that other cities with similar programs have seen a freeing up of parking spaces.
Moreover, city officials believe that car-sharing reduces pollution and congestion.  In addition, they point out that if you don't own a car, you don't have to pay for insurance, maintenance, and other expenses. The new car share parking pilot program begins sometime this spring. 
What do you think of these proposed programs? Do you think they can help address the city's parking problem? Please let us know in the comments below.