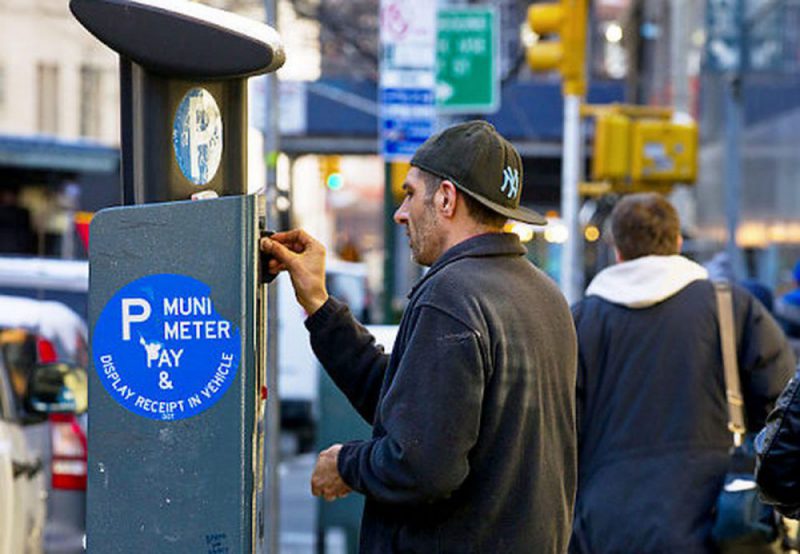 Summary & Quick Facts
Parking meters are also known as Muni-Meters in NYC.
Parking rates for meters vary across the five boroughs.

Meters dispense receipts that must be displayed on the dashboard of your parked car.

Legal parking durations on each meter vary from 1 hour to 12 hours.
Parking meters do not have to be paid on Sundays.
Always check signs carefully before parking at a meter.
Parking Meters Are All Over NYC
You see them on almost every street you drive in New York City. They are the watchful, robotic guardians that, at certain days and times of the week, separate you from a free parking spot. Parking meters, better known as Muni-meters, can be found all across the city. If you're a motorist, you know that they are a very important aspect of driving in NYC. Nonetheless, not all parking meters function in the same way. This article will help give you all the info you need to handle your parking meter encounters in the right way. 
Muni-Meter Parking
The ubiquitous Muni-meters we see today are actually quite new. The Department of Transportation in the early 2010s replaced the last remaining single-space coin activated parking meters.  The reason? The newer Muni-meters have several advantages over the old school parking meters your Uncle Tony remembers. They include a convenient digital pay-and-display system, the reduction of unnecessary sidewalk encumbrances, and additional capacity for parked cars in the same curb space.
Muni-Meter Regulations
Unlike older parking meters, parking rates for muni-meters vary across the five boroughs. You can see the various rates in each borough below. Parking rates are posted on each parking meter.
The legal parking duration limit is posted in the top left-hand corner of the green meter signs. The length of time drivers are legally allowed to park without fear of receiving parking tickets also vary greatly. This time limit ranges from 1 hour to 12 hours.
Remember! Parking meters do not have to be paid on Sundays so you will always be able to find free parking on this day. Nevertheless, before you park your car, always check signs carefully to make sure you have the right. You do not want to end up having to pay or fight a parking ticket that you can easily avoid.
Changes Muni-Meter Parking Rates In 2018
While rates vary from place to place, one thing drivers can be sure of is that rates are increasing in 2018. Right now, The Department of Transportation is gearing up to hike parking meter rates as part of a new plan that aims to manage congestion among other things. These include improving upon the Vision Zero plan, managing bus speeds, and increasing safety measures for pedestrians.
The city is expected to roll out new rates later this year, sometime in October. While the changes have been announced, the new prices haven't been revealed just yet. The city seeks to evolve the muni-meter into a new system of more zones to more closely match land use and parking demand in both Manhattan and the outer boroughs. By doing this they hope to reduce the number of time drivers park in high congested areas.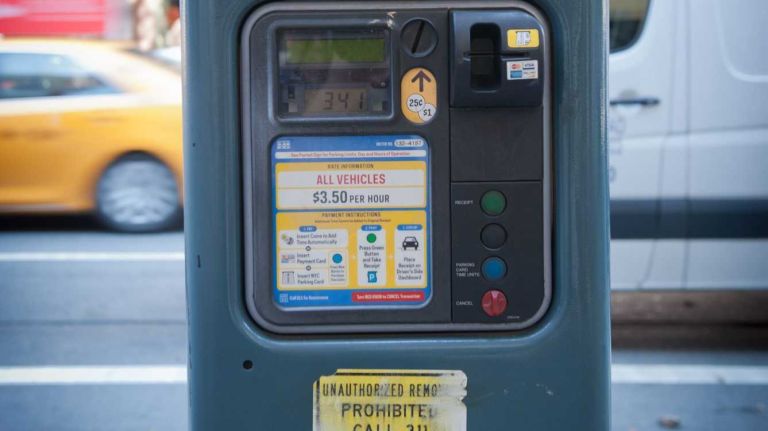 Muni-Meters And Commercial Drivers
Commercial vehicles such as trucks and vans are always required to pay for parking in "No Standing Loading & Unloading" zones in Manhattan. These zones include 23rd Street to 59th Street, from 2nd ave to 9th ave and on Canal Street on both sides between Bowery and West Broadway.
Parking rules are in effect Monday through Friday from 7 am to 6 pm unless otherwise posted. Operators of commercial vehicles must always stand or park at meter designated parking spaces, purchase parking at meters located on these streets, and display the receipt on the dashboard. The maximum time for such metered parking on a single block is a total of three hours unless otherwise indicated by a posted sign.
Those operating buses commercially whether for tours or private pickups must also adhere to parking regulations. Bus parking meters are in effect every day from 7 am to 7 pm, except Sundays. Meters have a 3-hour maximum time limit for buses unless otherwise posted. Currently, The general meter rate for buses is $20 per hour, payable at parking meters but there is a flat $50 rate for three hours of parking at three neighborhood zones in the city: Greenwich, Barclay and West Street parking zones.
Parking At A Muni-Meter
Throughout New York City, on-street meters and meters at municipal parking facilities dispense receipts that are either displayed on the dashboard of the parked car or kept by the driver. Meters accept coins (quarters, dollar coins) and NYC Parking Cards. Many accept credit cards Find out more about parking rates and rules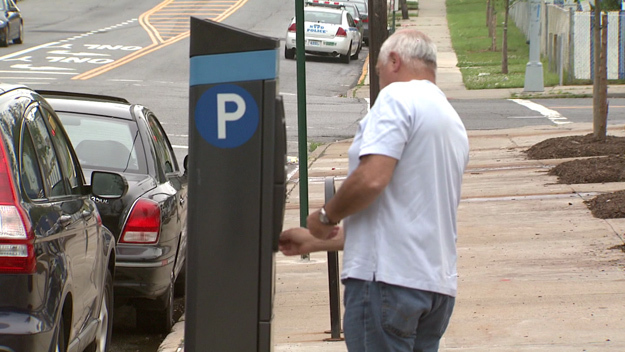 Paying For Parking At A Meter
For Pay and Display meters, customers purchase time, take a receipt and then display it on the car's dashboard.
For Pay and Retain (found mostly in off-street parking facilities) customers park in a metered space, enter their space number into the meter, purchase time, and keep the receipt. Always remember to check that the space number where you parked matches the number printed on your receipt.
Using Credit Cards
DOT accepts credit cards at many meters, including over 500 in the Theater District in Midtown Manhattan. If you use a card, you will not have to worry about any minimums or additional fees. You may use a  Visa, MasterCard, American Express or Discover cards to pay for parking at these meters. You can also see the accepted cards by looking for the credit card logos on the meters.
Using The ParkNYC Mobile App
The city has recently released an app that gives drivers an additional, more high-tech way to pay for parking spots at Muni-meters. ParkNYC is an easy and convenient way to pay for on-street parking and municipal parking lots using a mobile phone or web browser. The app has a number of perks and advantages over the more traditional ways to pay for parking. It allows drivers to pay for parking using their phones without having to go to a meter. You can also receive mobile alerts prior to your time expiring and extend your parking time remotely up to the maximum time allowed. The App is available for download in the Apple App store (for iPhone users) and Google Play (for Android users).
Malfunctioning Meters
To report a broken meter, visit 311 Online and make a complaint. If you are parked on a street with a broken meter, please use another meter to obtain your receipt.
Parking Meter Rates In NYC
Below are the various, current rates for parking across the city. Remember these prices are subject to change towards the latter part of 2018.
Location
Hourly Rate

The Bronx, Brooklyn, Queens, Staten Island

$1.00

Manhattan above 110th Street

$1.00

Manhattan on 96th Street (North Side) to 110th Street

$1.50

Manhattan on 96th Street (South Side) and below

$3.50

Commercial vehicle spaces in Manhattan

$4.00 (first hour)

$5.00 (second hour)

$6.00 (third hour)

Charter bus metered spaces in Manhattan

$20.00 (three-hour maximum)