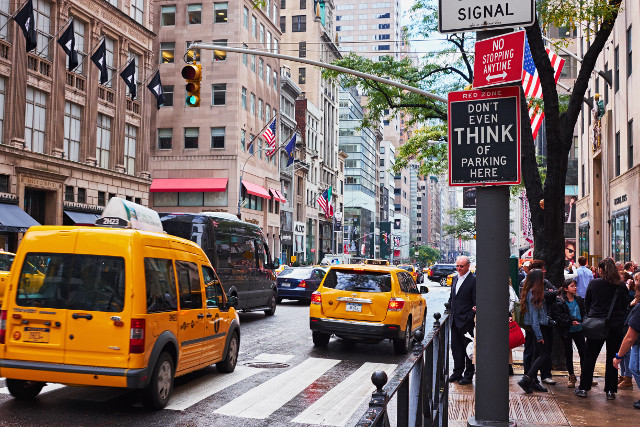 Summary & Quick Facts
Plan ahead of time and see what parking signs are on the streets near your final destination, it will save you time when looking for free and legal on-street parking spots. 

Take advantage of Sundays: there is more free on-street parking available on this day because muni-meters are not in effect.
Many parking regulations are not in effect on Major Holidays like Christmas or Memorial Day, freeing up more street parking spots.
Stay on top of Alternate Side Parking Regulations and know the best times to find free parking.
Tourists and out of town drivers can take advantage of free parking that some city hotels offer to their guests.
Wait…There's Actually Free Parking In NYC?
It's no secret that there are so many great things to do in New York City.  It may be easy to drive over into the city to get in on the action, but finding a spot to park once you're here is a whole other story. Let's be real, no one wants to waste their precious time going around in circles looking for parking. Nor do city drivers want to break the bank paying crazy prices for valet service or parking garages. And let's not even talk about the struggle in avoiding the parking ticket blitz. While it may seem daunting, believe it or not, you can find free parking in New York City.
Finding that coveted free parking spot in New York City is like finding a diamond in the rough. With over a million cars driving into the city every day, not to mention all the commercial vehicles, cabs and buses, the streets always seem congested to the max. The boom in construction occurring around the city doesn't help either. In fact, they have helped fuel the squeeze in the lack of free parking with all the construction equipment and dumpsters adding to the list of obstacles out there clogging the streets. Thankfully, we've gathered a bunch of tips and useful resources to help you on the mystical search for free parking in new york city.
Do Your Research
With a little research, you can plan ahead of time and see what parking signs are on the streets near your final destination. Take a look at the Department of Transportation's city map of parking regulations. They list all the street signs on every block in the city as well as the times they are in effect. You can also search for regulations on a particular street you may find yourself on by using this handy city database of parking regulations.  This can help you accurately determine when and where you can park!
And on the 7th day, the city said, LET THERE BE PARKING!
After the New York City government passed a city ordinance in 2005, city drivers have been able to find ample free parking spots on Sunday.  All parking muni-meters are not in effect on Sundays allowing for free parking on in any street spot where you usually have to pay to park. This is great for all drivers whether you're visiting from out of town or simply running errands around the city. While finding a parking spot may depend on where you are (it's going to be a bit tougher to find parking in more crowded and high traffic areas), it's still always good to remember that Sundays can be your ticket to free parking in New York City.

Major Holidays Means More Free Street Parking
Try and take advantage of any major legal holiday you can get! On major legal holidays, the city suspends most parking regulations such as alternate side parking. Just remember, you may never, even on Sundays, park or stand in a spot that is regulated by a sign which prohibits parking or standing at all times, or prohibits parking or standing on specifically on Sundays. The major legal holidays the city recognizes include New Year's Day, Memorial Day, Independence Day, Labor Day, Thanksgiving and Christmas.  Keep in mind that a lot of drivers tend to come into the city on major holidays so you may want to start your hunt for free parking before the rush.
Free Parking During Off Hours
Some signs indicate the hours when you cannot park. For example, No parking signs often do this. Drivers should always remember that they can, however, park anytime before or after the hours indicated on the sign. Make sure to read signs closely though!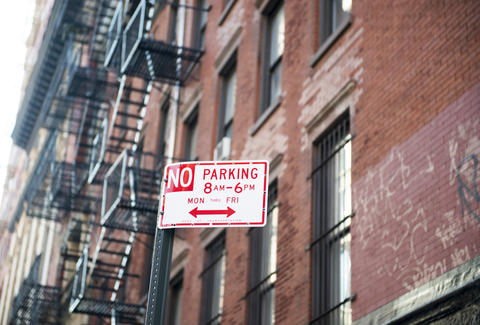 Alternate Side Parking Twitter Feed
Follow the city's @NYCASP for daily updates on what tomorrow holds in the often confusing world of alternate-side parking. Staying on top of alternate side parking regulations can save you valuable time if the rules are suspended and you didn't know. For example, you won't have to move your car on holidays or. Don't remember when these are? With @NYCASP, you won't have to.
Leave Your Car At A City Hotel
You'd be surprised but New York City actually boasts a couple of hotels that offer free parking. This is great particularly for out of town drivers and tourists. If you are staying at Comfort Inn Sunset Park or Hotel Cliff for a few nights, take advantage of the free parking.  For more information on those hotels with free parking, click here.