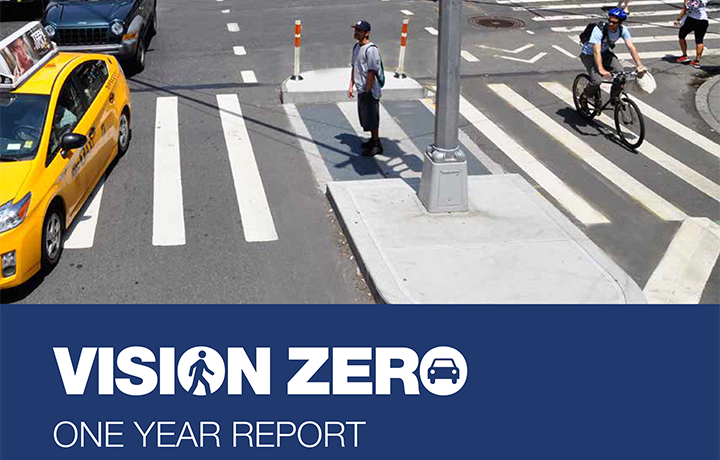 Summary & Quick Facts
A recent city report shows  New York City experienced the fewest traffic fatalities on record.

The city also witnessed a  sharp decline in pedestrian fatalities.

The Vision Zero initiative implemented a number of changes to traffic rules and regulations in New York City.

The program has also seen an extensive overhaul in street design and urban space planning.

The fundamental message of Vision Zero is that death and injury on city streets are not acceptable.
Thanks To Vision Zero, NYC Streets Are Safer
Good news has hit the streets of NYC and it benefits all drivers, bikers and pedestrians alike. A recent city report shows that the city is experiencing a steady decline in pedestrian deaths and serious accidents.  Learn about the NYC Vision Zero Program and how it improves safety for everyone who uses city streets. 
The History Of Vision Zero In The U.S.
What is Vision Zero exactly? New Yorkers have gotten to know Vision Zero as a public campaign aimed at improving street safety and decreasing accidents. Still, in America's car-centric culture Vision Zero is bold in both name and concept. First developed in Sweden in 1997,  the safety program's ultimate goal is to reduce traffic fatalities to zero. Here, the program looks at pedestrian deaths not as "accidents," but rather failures of street design and traffic regulation. New York was one of the early adopters in the United States, and the initiative has since been adopted by a growing number of American cities, from Portland, Oregon to Fort Lauderdale, Florida.
Vision Zero's success in American cities like New York hasn't been the easiest task. In fact, cities needed to take a multi-pronged approach when implementing the program. This approach goes beyond better street and sidewalk design and seeks to change the way we imagine urban space. Nevertheless,  architects of the program recognized that the program also must shift a culture that prioritizes cars and devalues pedestrians. 

NYC's Vision Zero Programs And Initiatives
The Vision Zero initiative implemented a number of changes to traffic rules and regulations in New York City. The initiative includes changes such as a city-wide speed limit reduction from 30 to 25 miles per hour, the creation of school zones, neighborhood slow zones, and an increased use of speed cameras. The city also not only repairs broken traffic signals but also adjusted traffic signal phases to align with the city's 25 MPH speed limit. This in effect gives pedestrians more time to cross the street.
The program has introduced numerous urban redesign and infrastructure projects at 50 intersections and corridors around the city. This includes the addition of 25 miles of protected bike lanes, expanded pedestrian space, new crosswalks, simplified vehicle movements. The city has also increased efforts to go after dangerous driving and repeat offenders.  Also as part of the Vision Zero strategy, the Department of Transportation, along with the NYPD rolls out seasonal safety campaigns. For example, the city's spring and summer initiatives include warning drivers about the correlation between warmer temperatures and a surge in traffic injuries.
Crunching The Numbers: How Vision Zero Has Improved Safety
While the National Highway Traffic Safety Administration (NHTSA) reports a 13 percent increase in fatal traffic accidents between 2013 and 2016, the city faired off better. In fact, NYC has seen lower pedestrian fatalities and lower traffic fatalities overall.
From 2013 to 2017, all traffic fatalities citywide are down by 28 percent. Statistics for pedestrian deaths in the city are even lower. It dropped 45 percent during the same timeframe. The city report shows in 2017, there were 214 traffic fatalities, of which 101 were pedestrian deaths. In 2016, there were 231 total fatalities, with 148 being pedestrians.
The report also shows that there was one fatality among school-aged pedestrian children. While this fatality still should've never happened, last year nonetheless was the fewest ever in the city for children under 17. All boroughs, apart from Brooklyn, saw fewer traffic deaths and Queens experienced the fewest fatalities ever.

The City Believes In Vision Zero
The fundamental message of Vision Zero is that death and injury on city streets are not acceptable and that we will no longer regard serious crashes as inevitable. "Vision Zero is working. The lower speed limit, increased enforcement, and safer street designs are all building on each other to keep New Yorkers safe," said Mayor de Blasio in a recent press release. "Now we must deepen this work. Not even a single tragedy on our streets is acceptable, and we'll keep fighting every day to protect our people."
Have you seen any significant changes on the streets because of the Vision Zero program? Let us know in the comments below.