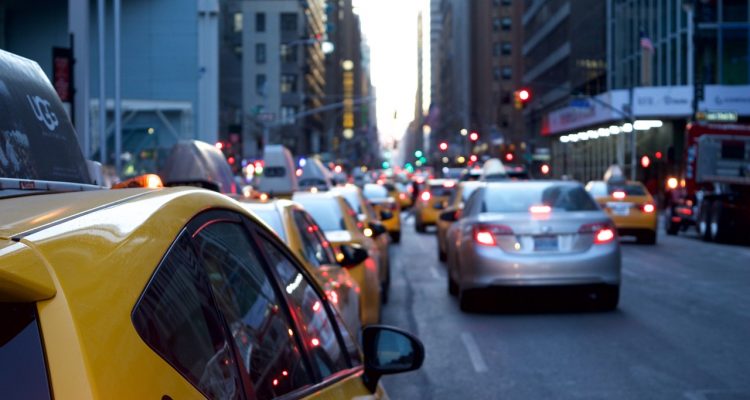 Summary & Quick Facts
New Yorkers are increasingly relying on ride-hailing services.
The City wants to impose a 1-year vehicle cap on ride-hailing services to study its effects on the city.
Proponents of the bill say it will relieve congestion and help NYC's ailing taxicab industry.
Detractors of the bill say it ends up harming drivers, small businesses and New Yorkers in transit-starved parts of the outer boroughs.
Why The City Wants A Vehicle Cap For Companies Like Uber and Lyft
New York City is notorious for its, lack of parking,  jam-packed streets and seemingly endless traffic. To many New Yorkers, this seems to get worse, especially with the rising popularity of ride-hailing apps in recent years. Many believe these cars have flooded New York, clogging our streets and adding hours of time in traffic. However, this may soon temporarily change as New York becomes the first major city in the nation to impose a vehicle cap on the number of ride-hailing services operating on city streets.
City Councilman Stephen Levin is sponsoring legislation that requires a yearlong "pause" in issuing most new for-hire vehicle licenses so the city can study its effects. The council may also limit the number of vehicles operating in an area and could decline to renew a permit if a "need" for service isn't demonstrated, the Verge reported. The legislation would still allow new licenses for wheelchair-accessible vehicles. Learn about the ban and how this may affect the ever-increasing congested streets of NYC.
Supporters Of The Bill Urge Action
Proponents say the city should reduce the number of vehicles that companies such as Lyft and  Uber currently have on the streets. According to reports, there are now 100,000 for-hire vehicles licensed in the city, this is up from 40,000 in 2011.  In addition, many claim ride-hailing apps siphon riders from using public transit and depress incomes for local taxi and livery drivers.
This is not the first time that New York City has tried to regulate this new technology that has dramatically changed the industry. In 2015, Mayor Bill de Blasio attempted to pass a vehicle cap for Uber vehicles on city streets. Nonetheless, his early initiatives failed. Since his 2015 initiative, the number of for-hire vehicles in New York has only increased. The number of for-hire vehicles cruising the streets rose from 60,000 to more than 100,000 vehicles.
Benefits Of The Bill
Proponents of the bill say that despite the vehicle cap, service overall could still increase by 35 percent. Moreover, they say a pause on new vehicles would actually help current drivers.  The cap will lead app drivers to carry passengers more of the time instead of aimlessly driving looking for passengers. Finally, proponents say that part-time drivers would want to work more hours and new drivers would still be available to drive existing vehicles more hours. Nevertheless, the overall benefit of this pause will reveal the true effects that ride-hailing apps have on the city.
The city also wants to help the struggling taxi industry. As the number of ride-hailing app vehicles rises on city streets, values of taxi medallions plummet. Taxi medallions that once went for as much as $1 million now sell for less than $200,000 or 80% of its initial value. Cab drivers who took out loans to pay for the medallions are hit hard with debt, and some have unfortunately even taken their own lives because of it
Why Detractors Of The Bill Think It's A Drag
Nevertheless, the bill still has its detractors. The main targets of the bill, Uber and Lyft, say that the cap will be detrimental to New Yorkers. They see this as an attack on outer-borough residents. Moreover, they say the bill particularly targets those who lack access to public transit and are neglected service by cabs. The companies made a similar argument when Mayor Bill de Blasio first proposed a vehicle cap back in 2015. "The City Council's Uber cap will leave New Yorkers stranded while doing nothing to prevent congestion, fix the subways and help struggling taxi medallion owners," said a spokesman for Uber, in a report by The Verge. "This would take New York back to an era of standing on the corner and hoping to get a ride," a Lyft spokesperson added.
There are some civil rights groups that side along with Uber as well. They reiterate the notion that ride-hailing services better serve black and Latino riders and those who live outside of Manhattan. According to Uber, trips in Brooklyn, specifically in neighborhoods like Crown Heights, East New York and Brownsville, have more than doubled in the past year. These neighborhoods predominately have Black, Latinx and immigrant families.
How Have Ride-hailing Apps Affected The City
New York's move to limit ride-hailing services comes as more cities are choosing to ban or restrict other disruptive transport technologies. Cities like New York are having to balance the tension between old and new ways of getting around. These tensions may reveal certain transportation disparities and areas where cities can improve.  That is, ride-hailing services became popular in New York City for example, as the public transit system became increasingly unreliable and taxis remained expensive and sometimes in short supply.  Nevertheless, a new study examines the transportation network companies (TNCs) and the impact they have on public transportation and traffic congestion in New York and other metropolitan cities.
It finds that 60 percent of TNC users in cities would use other transportation methods if TNCs were not available. This includes using buses, trains and other forms of public transport, walking, biking or not making the trip.  The remaining 40 percent would use a personal vehicle or taxicab had TNCs not been available for the trip.
What do you think of the proposed ban? Let us know in the comments below!