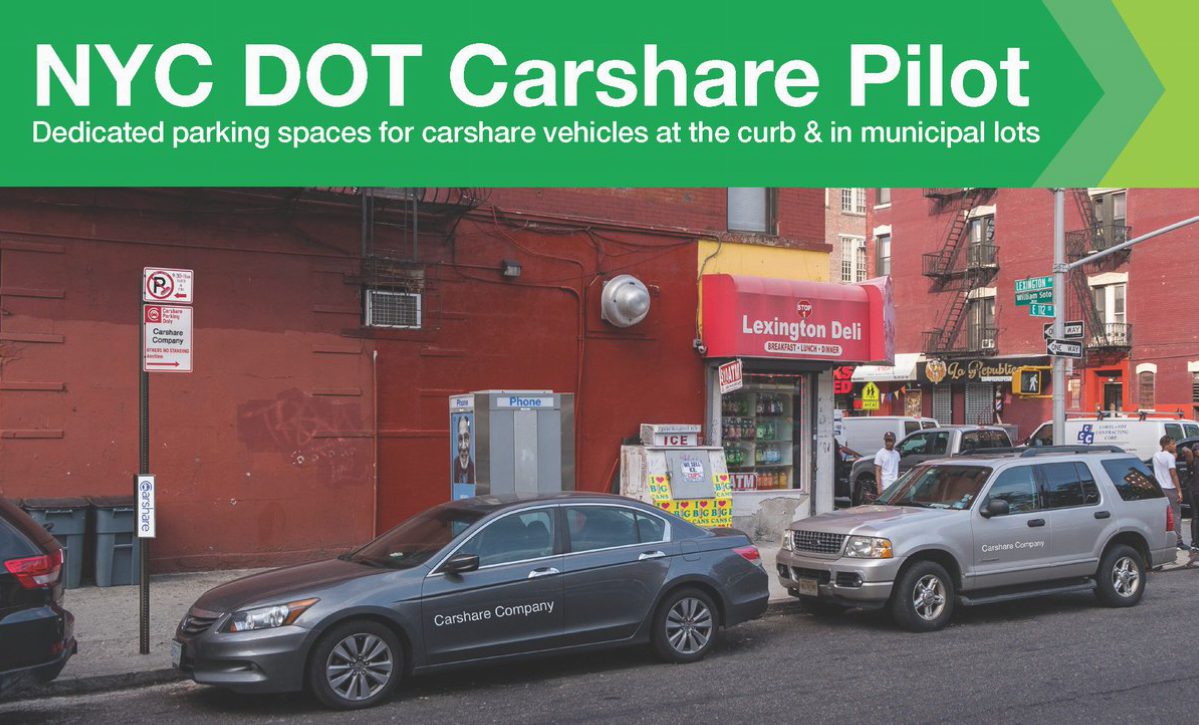 Summary & Quick Facts
The DOT's new carshare program will reserve a little over 300 public parking spots for carshare vehicles.
Carsharing is a service that gives members access to an automobile for short-term use.
Carshare has the potential to improve local air quality, reduce congestion and improve access to services, friends/family, and recreation by making cars available to more New Yorkers.
The carshare locations will be spread out over four boroughs: the Bronx, Brooklyn, Manhattan, and Queens.
There's A New Carsharing Pilot Program Coming To Town
Local car owners beware. It may soon take a little longer to find a parking space in New York City. A new program is taking effect that will take away hundreds of spaces for drivers. Specifically,  the city has reserved about 300 parking spots throughout four participating boroughs. These spots are solely for vehicles from carshare companies like Zipcar and Enterprise.  This may make finding parking in some areas more difficult for drivers with their own car. Still, the city believes it in the long run, it will make driving in the city a lot easier.
What Is The NYC DOT Carshare?
The NYC DOT Carshare Pilot is a two-year pilot program that DOT that launched May 31, 2018. Carshare is a service that gives members access to a car for short-term use.  This is typically by the hour or minute. Carshare companies usually provide members with either round-trip service or one-way service. Round-trip service allows members to borrow and return vehicles at the same location. On the other hand, one-way service allows members to pick up a car at one location and drop it off at another within the company's service zone.
Zipcar and Enterprise are the two companies the city has selected for the pilot program.  This is the first time in NYC that carshare companies, which typically keep their vehicles in garages, will be allowed to store cars on city streets. Other than a one-time fee of $765 paid by each company, there is no charge to park on the street. As a trade-off, the companies were required to provide discount fares to certain low-income New Yorkers and deploy cars with high fuel efficiency.
As part of the program, participating companies will get a total of 309 parking spaces in 14 mainly low- and moderate-income neighborhoods that were chosen because they are not well-served by car-sharing companies. About 230 spots will be on streets, and 55 will be in municipal lots.
Benefits Of Carshare In NYC
Officials say making more carshare options available to New Yorkers could lessen their reliance on individual cars. This has the subsequent effect of reducing congestion and air pollution. "It is my job to try to provide the best options I can for all the travelers of New York City," said city Transportation Commissioner Polly Trottenberg
The city's Department of Transportation is well aware that cutting the number of precious parking spots will infuriate drivers. The prospect of fewer street spaces has angered some drivers. They say aggressive ticket agents, unforgiving tow truck drivers and alternate side of the street regulations already make car ownership in New York a headache, more so than most places in the country.
Still, making more shared-vehicles available to more New Yorkers will have positive effects. In New York City, just under half of all households own cars, according to the New York City Economic Development Corporation. This is significantly less than the national average of 92 percent.
Here, officials say, carshare programs can play a vital role in helping people without cars who live far from public transit get around. For example, the city believes that it will lower household transportation costs for many families. This works by providing families with reliable access to a car without annual car insurance and maintenance bills, tickets, and unexpected costs. You only pay for as much or as little as you drive.
How To Join the DOT Carshare Program
New Yorkers should apply for carshare membership directly with a participating company (ZipCar or Enterprise). When applying, expect to provide information such as a driver's license and form of payment. Drivers with disabilities can also join the program. Carshare companies participating in this pilot must provide a vehicle with professionally installed hand controls to any member with a disability within 48 hours of the request.
The NYC Carshare Regulations
The city created new parking signs which label designated spots reserved for Zipcar or Enterprise cars. This new street regulation signage for carshare parking spaces will be in addition to pedestrian-level signs in multiple languages. The purpose of these signs it to clearly designate each space for a specific carshare company and/or vehicle.
Parking in a carshare space violates the city's long-standing no standing violation. The sign regulation "Other No Standing"  means that drivers with non-carshare vehicles may not stand at this location. Any vehicles other than the marked carshare company vehicle may not wait or stop to load/unload packages or merchandise at a curbside spot. The city does make allowances to allow drivers in non-carshare vehicles to expeditiously drop off or pick up passengers. If you parking a private vehicle in carshare parking spaces, the  NYPD may issue you a ticket and tow any illegally parked vehicles.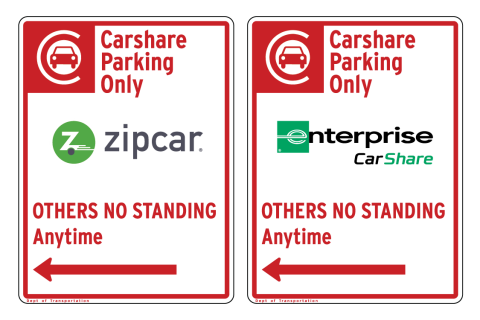 Participating companies also have the ability to relocate an impermissibly parked vehicle from its parking space. They will move cars to the nearest available lawful on-street parking space. Nonetheless, this is at no charge to the carshare member or car owner. If your vehicle was moved from a carshare parking space, car owners can call 311 to be connected to the local NYPD precinct. Here, they learn where their vehicles have been relocated.