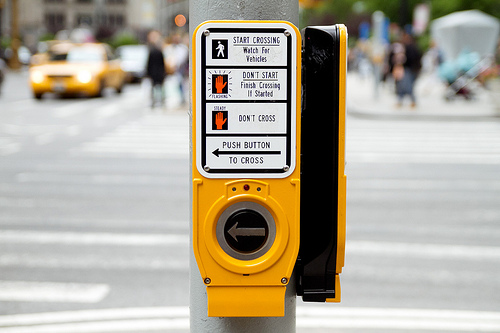 Summary & Quick Facts
Crosswalk buttons that accompany many traffic signals across the city were once critical to managing traffic patterns.

In the past, 

pedestrians could trust that they had some impact on the way traffic flowed.

Over time, as traffic increased and technology advanced, many crosswalk buttons became outdated.

Only about 100 of the 1,000 crosswalk buttons actually function today. 

Currently, 317

 crosswalks

 have accessible pedestrian signals that help disabled and visually-impaired pedestrians cross. 

The city council introduced legislation to 

replace outdated crosswalk buttons with more modern, accessible pedestrian signals

The city is attempting to increase the number of operational crosswalk buttons by currently adding 75 per year.
Pedestrians Count On Crosswalk Buttons To Safely Cross
Drivers encounter pedestrians in so many instances on the road. The crosswalk is probably the place where these encounters become the starkest. As you pull up to an intersection, how often have you seen pedestrians wait seemingly an eternity to cross the street? It's a common sight around the city in fact: pedestrians tired of standing at a busy intersection waiting for the light to change repeatedly slamming crosswalk buttons. Many who aren't in cars do it hoping to change the traffic signals and make the "walk" signal appear faster so they can safely cross the street. After all, that's what it's there for right? Unfortunately, it may not be the case to the chagrin of many pedestrians.
Do The Buttons Even Work?
According to the  Department of Transportation, the crosswalk buttons which accompany traffic signals across the city were once critical to managing traffic patterns. At the time, pedestrians could trust that they had some impact on the way traffic flowed.
Nevertheless,  for the past few decades, the city began implementing computer-controlled stoplights at almost all intersections in the city. As a result, the number of operational buttons has steadily decreased over the recent years.
The New York Times revealed that the majority of New York's buttons didn't work in 2004, about 750 were still operational. Now in New York City, only about 100 of the 1,000 crosswalk buttons actually function, according to the Department of Transportation. Whether pedestrians know it or not, the buttons left behind are mostly non-operational.  For many, this is a safety concern and issue that must be addressed.
New York City maintains thousands of traffic signals, according to the state Department of Transportation's website. However, only 317 are equipped with accessible pedestrian signals, which are different from the standard crosswalk button. Although the city recognizes the problem, change has been a little slow. Nevertheless, the city has been adding only about 75 each year, according to Disability Rights Advocates.  
Operational Traffic  and Crosswalk Signals Are Paramount For Safety
Worsening traffic may be behind the shift in folks realizing that traffic signals and crosswalk buttons may not be working as they should. Crosswalk and traffic signals were generally installed before congestion had reached today's peak levels. Nevertheless, over time they became outdated. Soon, they started to interfere with the complex coordination of traffic signals and flow.
As a result, the city had to introduce more advanced systems such as automated lights or traffic sensors to replace more outdated signals. Nevertheless, the physical buttons were often kept, rather than replacing them at further expense. To many, these older buttons may, in fact, be quite dangerous for pedestrians, bikers, and drivers.
Vehicles killed 107 pedestrians in the city last year last year. For this reason, Mayor Bill de Blasio has set a goal of eliminating these avoidable deaths through his "Vision Zero" plan. Another NYC politician is looking to further address the dangers that many face near traffic signals and intersections.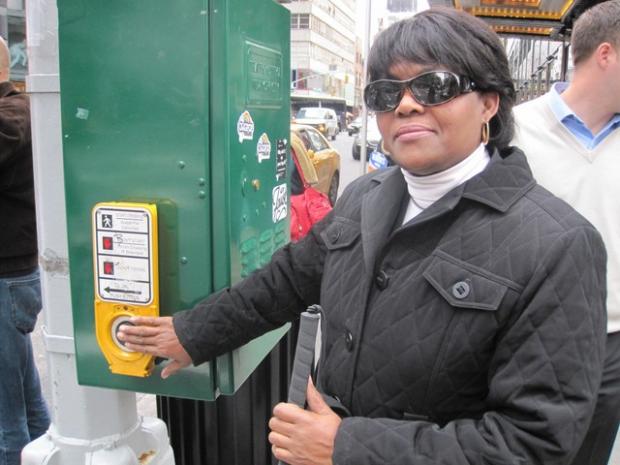 Legislation To Address Pedestrian Safety Concerns
Bronx City Councilman Rafael Salamanca Jr. says intersections with non-operational buttons pose a special risk to the blind or visually impaired. "This should be a part of the 'Vision Zero,' implementation," Salamanca Jr. said. "What better way to improve pedestrian safety than to help out those that are the most vulnerable?"
Nonetheless, Councilman Salamanca Jr. is introducing legislation that would require the city to replace outdated crosswalk buttons and traffic signals with more modern, accessible pedestrian signals that provide special cues to people without normal eyesight. These newer signals tell pedestrians to wait when it's not safe to cross the street. Once traffic comes to a stop, it makes chirping sounds alerting that they are good to go. While the newer crosswalk buttons feature sound and vibration signals, they're there mainly to assist the visually impaired. For the rest of pedestrians, pressing them, unfortunately, won't make the light change any faster.
Are the Crosswalk buttons around your neighborhood operational? Is crosswalk safety a concern for you?  Let us know in the comments below!