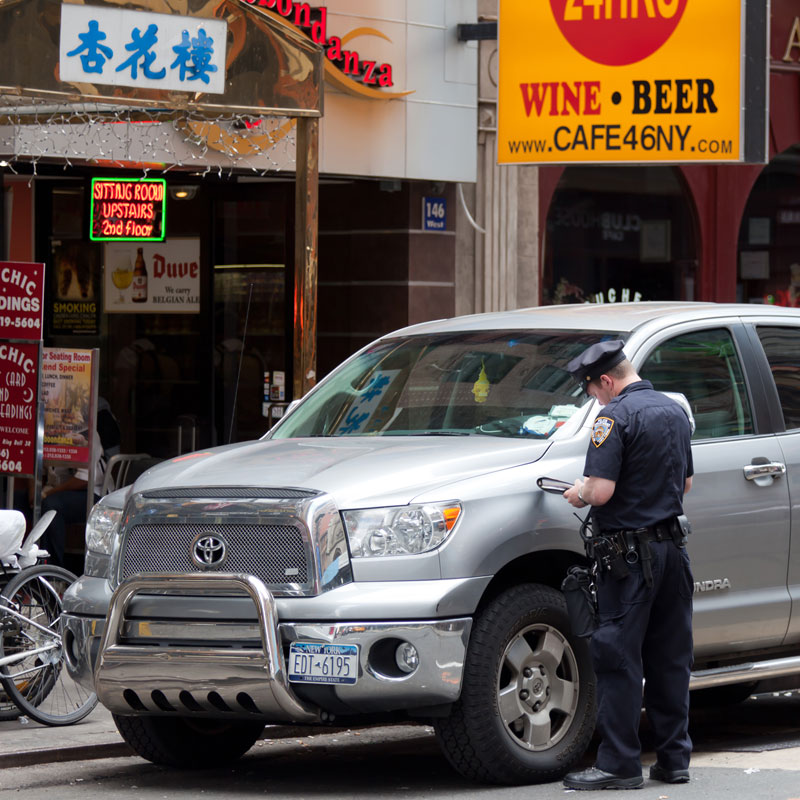 Summary & Quick Facts
Payment for traffic tickets in NYC are exclusively handled by the 

NY Traffic Violations Bureau (TVB) of the Department of Motor Vehicles. 

The TVB does not process parking tickets issued in NYC.
Drivers have three ways to pay their traffic tickets: online, in-person, or by mail.
Failure to pay traffic tickets will lead to additional fines and serious penalities.
How to Pay a Traffic Ticket Fine in New York
While the focus of Parkingtickets.org is mainly to help drivers learn about parking tickets in NYC. We do get many questions from readers about citations they receive while driving. Here, regulations and penalties can differ greatly between parking tickets and moving violations (better known as a traffic ticket). The same goes for the ways drivers pay for them.
Drivers who lose or decide to not dispute their traffic ticket fines are left with the option to pay. Choosing to pay your traffic tickets in NY should be a no-brainer. Afterall, who wouldn't want to avoid lengthy court proceedings and additional court costs simply because they failed to pay. Motorists who fail to pay by the deadline will incur additional penalties. This includes late fees, added interest, possible license suspension and other penalties that will have negative consequences for their driving records. With that said, let's take a second to learn about how to pay traffic ticket fines in New York.
Traffic Tickets vs. Parking Tickets
Before we delve into how to pay your traffic ticket, let's remember that not all tickets are the same. It's important to be aware that there are two types of tickets drives can receive. As we have earlier covered in our article on moving violations, the city treats a traffic ticket quite differently than simple parking tickets drivers receive. Tickets in NYC fall into two general categories: moving violations and non-moving violations. Here, the category your ticket falls under may depend on a couple of factors. However, in general, the ticket you receive mostly depends on whether or not you're driving. If you see an orange ticket on your parked car, you most likely got a parking ticket. If that's the case, head over to our article to learn how to pay a parking ticket.  
The Different Ways You Can Pay Your NYC Traffic Tickets
The different ways drivers can pay their moving violations, also known as traffic tickets, generally depends on the location they receive them. This means whether you receive the traffic ticket within the five boroughs or outside of NYC determines the options available to drivers. The NY Traffic Violations Bureau (TVB) of the Department of Motor Vehicles processes fines issued exclusively within the five NYC boroughs and Rochester, NY. The TVB only processes non-criminal moving traffic violations. Criminal courts handle more serious traffic infractions and violations in these areas.
Drivers who want to pay traffic tickets for speeding, as well as other types of citations issued by the TVB, have three ways to pay. They can either make a payment online, in person or by mail. The option to pay traffic ticket online in NY state may be unavailable in areas which are not under the jurisdiction of the TVB. 
How to Pay Your NY Traffic Ticket Online
To pay traffic fines online in New York City and Rochester, drivers can head on over to the ticket payment section of the official NY TVB website. In order to pay traffic tickets online in NYC, drivers must be ready to enter their traffic ticket citation number as well as driver's license number. Lost your traffic ticket citation number? Don't sweat it,  if you do not have your citation number, drivers are able to enter the last four digits of their Social Security Number. You also may need you to submit your full name, birth date and gender so have that information readily available. The system will accept your traffic tickets payment after you submit your credit card information.
Drivers should be sure to note that traffic tickets issued for more serious traffic violations in NY, such as driving while intoxicated (DWI) infractions cannot be paid via the internet.
How To Pay Your NY Traffic Ticket by Mail and In-Person
Drivers can pay traffic citations in New York by mail and in person regardless of whether or not they were issued a TVB traffic fine. Depending on the severity of the offense, however, you may be required to make a court appearance. If you choose to provide your NY ticket violation payment of a TVB ticket by mail, fill out the corresponding sections of the citation, including the fee payment and mail the package to the TVB Plea Unit office in Albany which you can find below. Drivers who decide to pay driving tickets in person, on the other hand, can do so by heading over to their local TVB office. We also have the NYC TVB locations listed below. 
Note: If your traffic ticket payment is not due to the TVB, inquire with the corresponding court about the in-person and by-mail payment procedures.
TVB Plea Unit Address
Traffic Violations Plea Unit
P.O. Box 2950 – ESP
Albany, NY  12220-0950
TVB NYC Office Locations
Brooklyn South (Coney Island)
2875 West 8th Street
Brooklyn, NY 11224
Get Directions to Brooklyn South TVB
Brooklyn North
Atlantic Center Mall
2nd Floor
625 Atlantic Avenue
Brooklyn, NY 11217
Get Directions to Brooklyn North TVB
Bronx
696 East Fordham Road
Bronx, NY 10458
Manhattan North
159 East 125 Street
3rd Floor
New York, NY 10035
Get Directions to Manhattan North TVB
Manhattan South
2 Washington Street
5th Floor
New York, NY 10004
Get Directions to Manhattan South TVB
Richmond (Staten Island)
West Shore Plaza
1775 South Avenue
Suite 2
Staten Island, NY 10314
Get Directions to Richmond TVB
Queens North
30-56 Whitestone Expy
2nd Floor
Flushing, NY 11354
Get Directions to Queens North TVB
Queens South
168-35 Rockaway Blvd
2nd Floor
Jamaica, NY 11434