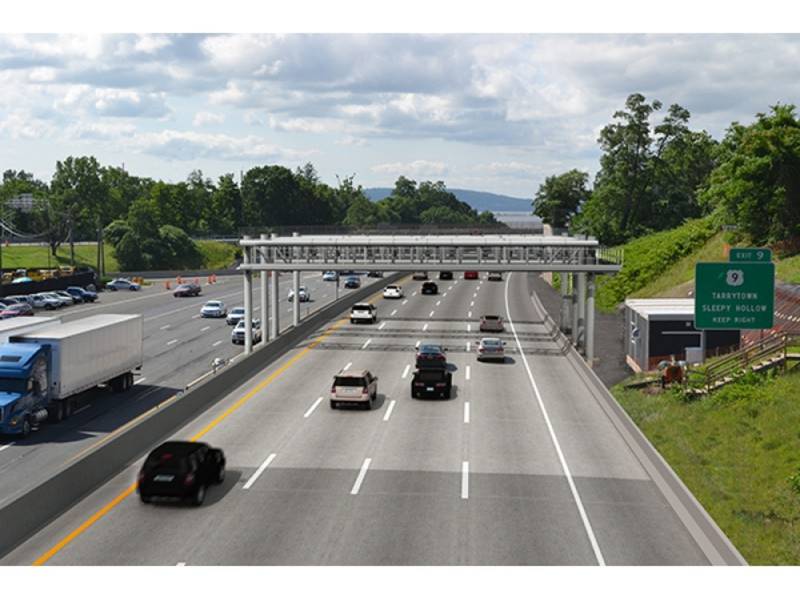 Summary & Quick Facts
Cashless tolling is a form of toll collection used at MTA tunnels and bridges.
If you have an E-Z Pass tag in your car, sensors will read it and deduct the toll from your account at a discount.
Drivers without E-Z pass will have a camera take a photo of their license plate and the toll is mailed to the registered owner of the vehicle.
Drivers should promptly because they will be subject to fines of up to $100, registration suspension, and more.
Cashless Tolls In NY Is Changing The Way We Use The Roads
Cashless tolls have radically transformed the way New Yorkers get around town and beyond. Gone are the days of sitting in traffic waiting for cars to ease through toll booths. Now drivers can speed right through some of the city's most congested bridges and tunnels. Cashless tolling seems like a win-win. While still in its infancy in our area, it may lead to reduced traffic, commuting times, and theoretically, vehicle emissions, making it good for the environment.
The new tolls include monetary financial benefits for the city and state as well. Since being in place, it already generating big bucks in profit for agencies that run it – like the MTA, which oversees E-Z Pass on bridges and tunnels in New York City. With all the benefits that cashless tolling brings to the state, it's no secret that New York plans to expand the program. Governor Cuomo made it clear in his 2018 State of the State Address that entire New York State Thruway System intends to convert completely to cashless tolling by the end of 2020.
How Cashless Tolling  Work?
Drivers with E-Z pass are already familiar with the process of Cashless tolling. They simply ride right through the toll and a go about there way. The toll charges your E-Z pass account automatically in the same process that many are already familiar with at other E-Z pass sites.
Drivers without E-ZPass using cashless tolling can pay their toll bill a variety of ways. After a driver rolls through a cashless facility, a mounted camera snaps a picture of the car 's license plate. The cashless toll runs your license plate to find the address on file with the Department of Motor Vehicles (DMV). Soon, you the registered owner of the vehicle will receive a bill in the mail with the toll amount. For this reason, the law requires motorists to keep their address current with the DMV. This ensures that the DMV can mail the bill to the proper owner.
Despite the perks tolls seem to give, there are without doubt kinks in the system. A growing number of drivers and commuters complain that cashless tolls have caused them countless problems. Ever since cashless tolling took effect at Metropolitan Transportation Authority bridges and tunnels, some drivers complain that they have gotten hit with a mountain of fines.
Penalties and Late Fees With Cashless Tolling
So what's the situation with the penalties and late fees? They can be quite harsh and just as pricey as a parking ticket to be honest.  Failure to pay a Tolls By Mail bill may result in late fees and fines up to $100, vehicle registration suspension, and other enforcement actions. Motorists have 30 days to pay the mailed bill they received for the toll. If you do not send payment by the due date, expect the second bill with a $5 late fee added to the total.
If the second bill isn't paid by the due date, the toll bill escalates to a toll violation. Here, the motorist is mailed a Notice of Toll Violation (in an orange envelope) with a violation fee. Violation fees are significantly higher than the first late fee and can really change a small toll into a big fine. Violation fees are $50 per trip for travel over the Grand Island Bridges and $50 per trip for travel over the Governor Mario M. Cuomo Bridge.
Avoiding Late Fees
Given the influx of complaints, its important for drivers to really know what they face if when using cashless tolls. Despite the simmering annoyance many drivers have, Thruway Authority spokesperson Jennifer Givner notes that the late fees are in line with those established by other tolling agencies.  The Thruway Authority argues that drivers have enough time as violations are only assessed after 90 -100 days of non-payment. By this time, a motorist would have received a third notice of delinquent payment.
Tips for E-Z pass Drivers
As many drivers experience issues with this widespread billing problem, here are some tips for motorists to avoid late fees. If you are an E-ZPass customer, always check your account and make sure all your information is up to date. Nevertheless, you especially want to make sure you have the right credit card information on file. Also, make sure your license plate number is registered.
To dispute a violation, you can call E-ZPass or write a letter with your dispute. For more information, go to the E-ZPass website.
Tips For Non-E-Z pass Drivers
Drivers who don't have EZ pass can also take steps to avoid late fees. First, make sure your address is current with the Department of Motor Vehicles. As we mentioned earlier, the address on file with the DMV is the one used to send bills. One of the largest factors that cause late fees is having an incorrect address on file. Unfortunately,  many motorists fail (as they required by law) to notify the DMV of their new address within ten days of moving.
Second, don't wait to be billed. You can go online, punch in your license plate number, and pay immediately after you travel through a cashless toll before a bill is even sent. Finally,  motorists who use cashless tolling but claim they have not received a toll bill should contact the Tolls by Mail customer service center at 1-844-826-8400 immediately to address the issue and avoid any fines.
Do you like cashless tolling in NYC? Let us know your experience in the comments below!