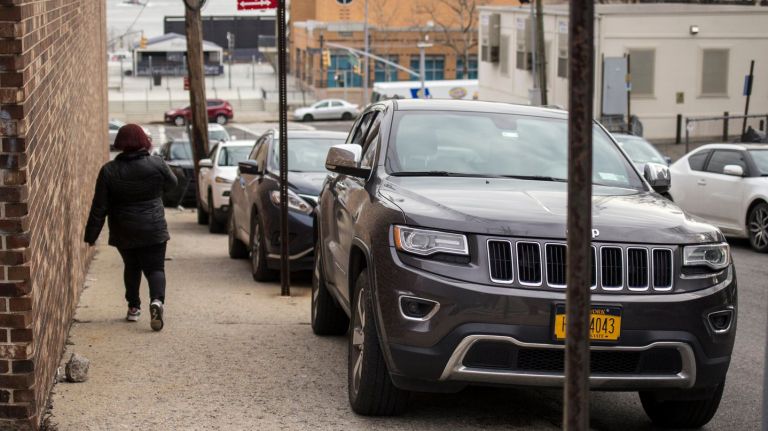 Summary & Quick Facts
The amount of parking complaints drivers filed with 311 spiked 228 percent over the past five years.

The city also saw a 326 percent increase in other parking complaint categories including blocked fire hydrants and other forms of illegal parking.
Queens is the borough with the most filed complaints in the city.
Manhattan had the lowest filed complaints out of every borough.

Long Island City has the most parking complaints per resident.

Blocked driveways were the top issue in parking complaints city-wide.
Parking Complaints On The Rise In NYC
Parking in New York City is easily one of the most coveted luxuries for city residents with cars. For this reason, it's no surprise that illegal parking provokes so many New Yorkers to complain about it frequently. According to one study, more and more drivers are reaching out to the city with their parking complaints and grievances via calls, texts, emails and tweets with the city's 311 hotline, so much so that parking-related complaints have spiked 228 percent from May 2013 to May 2018.  That also compares to a 31 percent increase in all other 311 complaints during that five-year time span.
Top Parking Complaint For NYC Drivers
The analysis determined that New Yorkers are most frustrated about blocked driveways. The city saw roughly around 137,000 blocked driveway parking complaints over the past five years. That's a remarkable increase of 162 percent. This increase easily makes it the number one issue out of all parking complaints. 
The city also saw a 326 percent increase in other categories of parking complaints for issues like double-parked cars, blocked fire hydrants, unauthorized bus layovers and vehicles violating posted parking signs. This totals to about 149,000 complaints.
It's difficult to park in many neighborhoods, but in places across the city with high rates of parking complaints, New Yorkers have reached their limit. They want the city to take more action when it comes to drivers who violate parking rules and regulation.
Hot Spots for Blocked Driveways
A lot of neighborhoods with high rates of blocked driveway complaints have a high density of homes with driveways that are often so tightly spaced, many vehicles can't fit into the street parking spaces between them. so, many have narrow streets, making double-parking for quick stops too difficult. Instead, many drivers opt to use the end of driveways for temporary parking.
At 41-51 and 41-53 150th streets in Flushing, nearly 450 blocked driveways complaints were logged over the past 12 months, the most in the city. These driveways sit next to a small restaurant, El Ranchito de Daisy Salvadoreno, one of Flushing's only Salvadoran spots. Restaurant patrons looking to park quickly on the short block seen to be overlooking the driveway boundaries. Most of the complaints were filed between the hours of noon and 6 p.m.
Queens is also home to seven of the top 10 neighborhoods for blocked driveway complaints. Richmond Hill, South Richmond Hill, and East Elmhurst were the top three. Two Bronx neighborhoods made the list: Van Nest (No. 4) and Morris Park (No. 8). One Brooklyn neighborhood made the list: East Williamsburg (No. 7).
Top Neighborhoods For Parking Complaints
Out of every neighborhood in the city, Long Island City ranked first for parking complaints per resident in the past 12 months. Residents of Long Island City clocked in more than 4,000 parking-related complaints. The neighborhood, a commercial and industrial hub where a major construction boom is underway, also saw the largest increase of parking-related complaints over five years.
This has led to an increase in tensions over parking as more people move into the neighborhood. Long Island City saw a 254 percent increase in the number of parking-related complaints over the past five years. Complaints jumped from 36 per every 1,000 residents to 127 per every 1,000 residents.
Overall, Queens is the borough with the most complaints. Here, statistics show 44 complaints per 1,000 residents. This is followed by Brooklyn with 41 complaints per 1,000 residents. In Manhattan, where car ownership rates are lowest and driveways aren't common,  complaints were lowest: 14 per 1,000 residents. (Neighborhoods with fewer than 10,000 residents were excluded from the below ranking.) Queens also ranked first for the number of blocked driveway complaints (nearly 24 per 1,000 residents), while Brooklyn was first for other illegal parking complaints (22 per 1,000 residents).
The study also found that parking-related complaints varied during weekday mornings and evenings. Brooklyn had the most parking complaints during the weekday mornings. Queens saw the most parking complaints in the evening on weekdays. The Bronx had the most complaints on the weekends, followed closely by Queens.
Top 3 Neighborhoods For Overall Complaints Based Time Of Week
Below are the neighborhoods who rank the highest in complaints based on specific times of the week.
No. 1 on weekday mornings: Long Island City

No. 1 on weekday evenings: Maspeth

No. 1 on weekends: Glendale
Neighborhoods With The Fewest Parking Complaints
Neighborhoods with less commercial activity and more dedicated parking tend to have fewer parking-related complaints, like the sleepy Roosevelt Island. The small neighborhood had the fewest parking-related complaints with 0.2 per 1,000 residents. Stuyvesant Town and Kips Bay rounded out the top three.
Top Addresses For Other Parking Complaints
While blocked driveway complaints tend to be the most popular gripe, the city has also seen an increase in concerned citizens reporting issues like double-parked cars, unauthorized bus layovers, and vehicles violating posted parking signs. Other illegal parking-related complaints spiked 326 percent to 149,000 complaints over the past five years. Below are the specific addresses that were the top offenders for different categories.
Ignoring Parking Signs
New Yorkers complained 524 times from May 2017 to May 2018 about vehicles ignoring parking signs in front of a Yeshiva at 78-15 Parsons Boulevard, on the border of Kew Gardens Hills.
Blocked Hydrants
Nearly 175 complaints were logged about cars blocking a hydrant at 722 East Fourth St. in Kensington. In this case, however, cars blocking the hydrant also block a driveway, so the driveway owners here have more of an incentive to report this blocked hydrant.
Additionally, there were many blocked driveway complaints for the nearby address at 718 East Fourth St. and a few more on the street, indicating a lot of homeowners on the block are upset about parked cars flouting the rules.
Blocked Sidewalks
The building at 724 Coney Island Ave. saw 180 blocked sidewalk complaints last year. This address sits on a Ditmas Park strip with garages for auto body shops and other manufacturing companies. It likely saw the most complaints for blocked sidewalks because vehicles parked in front of the garages were forcing pedestrians into the street.
Double Parking
New Yorkers complain the most about traffic blocked by double-parked cars in front of the Upper East Side's 1250 Park Ave., where a plumbing supply store is based. Motorists filed nearly 160 complaints about this area last year.
Unauthorized Commercial Bus
Illegally parked buses have long been causing noise, pollution, and congestion in Chinatown. More than 180 complaints were filed over buses at 9 Allen St., just south of Canal Street. Though the city has added sanctioned spots in recent years while seizing other buses operating at illegal stops, some operators still flout the rules, and residents continue to complain about them.