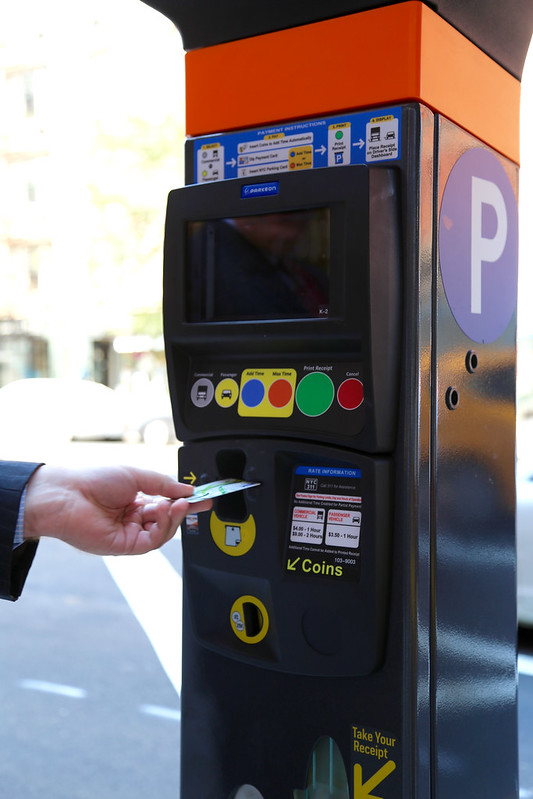 Many high-traffic parking spaces in New York City are regulated by parking meters. All parking meters accept quarters, dollar coins, parking cards, and the ParkNYC app. In addition, many meters also accept Visa, MasterCard, American Express, and Discover cards.
Some parking meters, however, accept none of the above payment methods, because they're broken. Meters that are out of service, if the display is on, will flash a red light and display a "machine out of order" message. Beware! This doesn't count as a free parking spot. You have to find a working meter on the same or next block.
If all the meters within the two blocks are missing or broken, then you can park for the maximum amount of time indicated on the meter. Be careful to record the date, time, and meter number, just in case you end up getting a ticket anyway.
That said, if you want to go the extra mile, you can report broken meters for the benefit of all. According to 311, you can report a broken meter that is any of the following:
Is out of order
Is bent, knocked over, or missing
Is defaced with graffiti or has damaged decals
Is not printing receipts
Is not accepting coins
Is not reading credit, debit, or parking cards
Has fast or failed timing
Has a stuck credit, debit, or parking card, or a MetroCard
Has a card slot that is blocked by ice (note "slot frozen" in Description)
Should be relocated because it is too close to a fire hydrant
Make sure to record the meter number for the report. You can find this number on the screen and on the front of the meter above the directions. In addition, if the broken meter ate your card, be sure to include your address and phone number, so that it can be returned to you. You can report broken meters here.